Posted by Admin |March 27, 2012
Custom, Low-Profile Style
* Low Ride (LR) Construction for lighter weight, flexible and support
* Flex Wrap outside with rubber taping for support
* Gum rubber outside with herringbone pattern for exceptional board grip
Two cushioning options deliver customized comfort Lunarlon is a super-soft resilient foam that blends plush cushioning and responsiveness, best for high-level athletes who ride everywhere.
And the low-profile Nike Zoom delivers serious impact protection.
Want to see more Nike products Click Here
"I still have my feet on the ground, I just wear better shoes."

- Oprah Winfrey
Posted by Admin |March 13, 2012
Fairfax Metal Mulisha - Black/Lime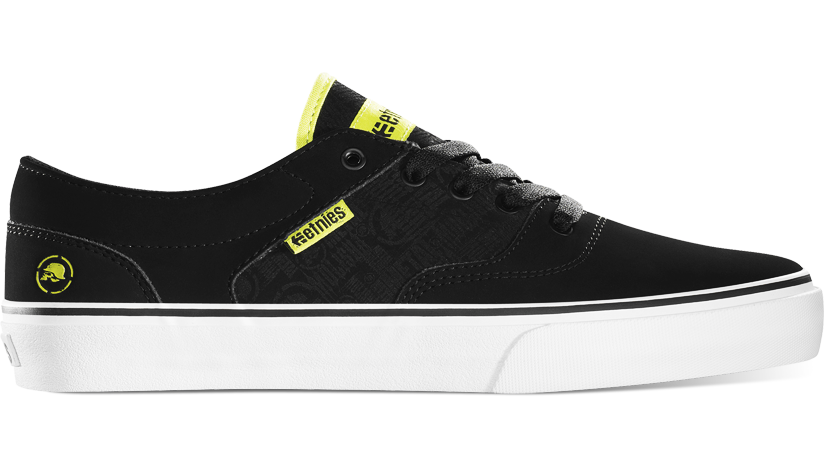 * Wax Off Nubuck/Canvas Upper
* Classic etnies styling
* Vulcanized dropped to the floor construction
* Thin padded tongue and collar
* STI DTF Pro 1 Footbed. 400 NBS rubber
* Available in sizes: 5-14
For year Enties shoes have been endorsing thicker skate shoes, but now the bad ass designers over at the Metal Mulisha have created a new shoe with a twist and created the Fairfax slim Metal Mulisha shoes in stark Black / Lime colorway.
These awesome shoes also display the subtle Mulisha logo.
Want to see more Etnies products Click Here
"Before you criticize someone, you should walk a mile in their shoes. That way when you criticize them, you are a mile away from them and you have their shoes."

- Jack Handey
We hope you enjoy the free infomation as well as the product and website reviews.
© copyright 2011- 2012 Devil Street Wear


Home | Brands | Fashion Tests | Contact us | About