Posted by Admin |December 19, 2011
Searching for Michael Peterson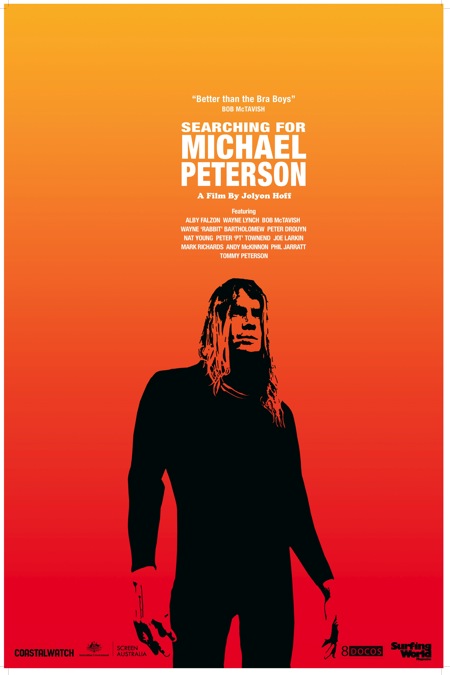 In 1977, in front of 20,000 people, Michael Peterson beat future four times world champion Mark Richards to win the first event of the surfing world tour. It was his last competition and he was only seen occasionally until 1983 when he was arrested in a 15-car police chase from Coolangatta to Brisbane. He never surfed again and, after years in Boggo Road goal, he was finally diagnosed with paranoid schizophrenia.
To watch the whole video here
Searching for Michael Peterson
"I'm the sort of person that whatever I do, after a while I can do it really well. It doesn't matter what. And it was just that I got into surfing more than anything else and got it down to perfection, and it paid off. It paid off around $17 000."

- Michael Peterson
Posted by Admin |December 15, 2011
Alpinestars Bionic Neck Support CF
* Carbon Composite frame to maximize frame stiffness and minimize weight.
* Two different EVA foam densities are used in the BNS: Firmer EVA in the shoulders and softer EVA on the chest and back for comfort.
* Pivot Key system - A special magnesium key located at the rear allows convenient front opening of the device and allows for dismantling in an emergency.
* Fitting System - Fine adjustment of the shoulder height allows a personalized fit particularly for individuals with shorter necks.
* Rear Stabilizer system - In the event of large loads being channeled onto the rear stabilizer (the part that sits on the back) there are several bending and fracture points designed to relieve extreme loads that may be transmitted down the back.
* Collar Bone preservation 1 - All parts in contact with the body use an expanded foam compound to distribute the impact force over the widest area, yet remain lightweight.
* Collar Bone preservation 2 - A frame member runs over the shoulders, eliminating weak points in a critical part of the frame and no metal pins or screws sit directly above the shoulders which could dislodge, causing injury during an accident.
* Choice of Strap Systems - The BNS is supplied with the X-Strap System which allows a small, light strap worn over or under the jersey to secure the device to the rider. The larger A-Strap assembly (available as a separate accessory) provides a traditional chest strap for those who like to wear the protector tight against the body.
* Mounting points - Allow for integration of the BNS with other Alpinestars accessories.

The Bionic Neck Support functions by providing an alternative load path for the energy that compresses the neck. If the helmet is in contact with the BNS at the moment of impact the overall load passing through the neck can be reduced, which may prevent a fracture from occurring.
The BNS reduces the chance of muscular injuries from extreme head movement.
While it is not possible to eliminate the risk of any form of injury, the BNS is designed to help prevent the most serious damage and minimize the risk of collateral injury as the impact load is channeled away from the neck.
When compared to soft neck roll devices, the protection afforded is significantly better since soft devices deform on impact, offering no protection against the damaging compressive forces.
As with any riding equipment, fit is critical to ensuring the most effective protection possible and riders should choose the equipment that is best suited to their body. No neck device should roll around over the shoulders.
"No Fear, Take no prisoners, leave no survivors."

- Unknown
Posted by Admin |December 08, 2011
RIP CURL TRESTLES OCEANSEARCH WATCH - RED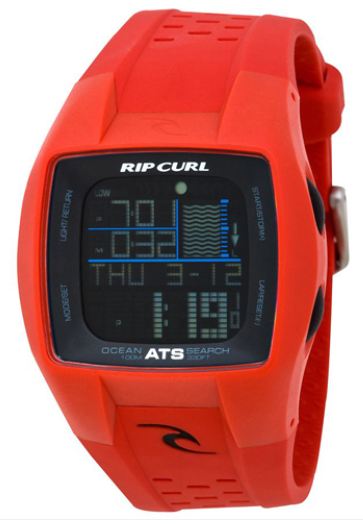 * ABS - A tough lightweight plastic with high impact strength. Used in cases & strap contruction
* Automatic Tide System (ATS) - Rip Curl's patent averaging tide system. Easily set to thousands of beaches worldwide
* Preprogrammed Tide Functionality - Electronically stored tide charts for 200 preset locations worldwide
* Alarm
* Stop watch
* Duel Time
* Light
* Preprogrammed Moon Phase
* Countdown timer
* Date and Time
* Waterproof tested to 100M
* PRICE: $130.00 USD

Whatever your location, the oceansearch watches have one touch access to the tide charts of 200 preset locations across the globe.
You will also find the patented future tide averaging system (ATS), full digital features and waterproof testing up to 100M.
Click here for more about Rip Curl Watches!
"Surfing soothes me, it's always been a kind of Zen experience for me. The ocean is so magnificent, peaceful, and awesome. The rest of the world disappears for me when I'm on a wave."

- Paul Walker
Posted by Admin |December 06, 2011
Dragon - Owen Wright / Green ION Sunglasses
* Grilamid Frame Material
* 6 Base Polycarbonate Lens
* 5 Barrel Stainless Steel Hinge
* 100% UV Protection
* Large Fit
* COLOR: The Jam - Owen Wright / Green Ion
* Stainless steel optical hinges
* PRICE: $130.00 USD

Dragon Eyewear and Quik Pro NY Champion Owen Wright, introduce the Owen Wright Signature Jam Sunglasses.
Drawing inspiration from summers growing up by the ocean, the Owen Wright Signature Jam fuses soothing teal with Owen's own bizarre twist on the creatures of the deep sea. "I wanted to create something that is me... and what I do beyond surfing," Owen said. "The ocean has been such a big part of my life, I basically grew up in it swimming, fishing, and looking around the reefs. When you put these sunnies on you will feel like you are in the ocean."
"Once you're a surfer you're done. It's like the mob or something. You're never getting out."

- Kelly Slater
Posted by Admin |December 02, 2011
VONZIPPER WOMENS SUNGLASSES NESSIE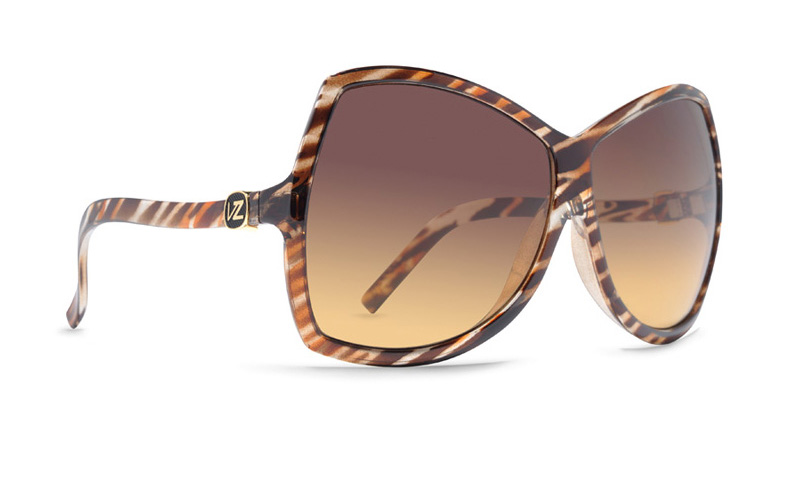 * COLOR:BLACK GLOSS / GREY
* SKU:SJJFJNES-TBN
* 100% UV Protection
* Base 6 spherical lens
* Impact resistant polycarbonate lens
* Nylon grilamid frame
* Stainless steel optical hinges
* PRICE:$75.00

VONZIPPER have released these great women's sunglasses called Nessie. They come in bronze, purple, white and black. And retail for about $75.00 USD.
The search for the legendary Loch Ness monster is over. It turns out the highly sought after creature is a sexy beast after all! The elusive Nessie has surfaced from the depths as a dark mysterious Italian sunglass ready to be worn and adorned.
"After The Matrix, I cannot wear sunglasses. As soon as I put them on, people recognize me."

- Carrie-Anne Moss
We hope you enjoy the free infomation as well as the product and website reviews.
© copyright 2011 Devil Street Wear


Home | Brands | Fashion Tests | Contact us | About